Lindfield Collection
Brenda Barratt lived on the outskirts of Lindfield for many years and has been a prolific local watercolour artist specialising in house and school portraits.
She has sold hundreds of Limited Edition Prints of her watercolour paintings of Sussex schools such as Hurstpierpoint College, Great Walstead School, Burgess Hill Girls School and Brighton College.
Brenda comes from a long line of professional artists and has been painting architectural subjects for over twenty years. As a local artist, Brenda has painted many original watercolours of Lindfield.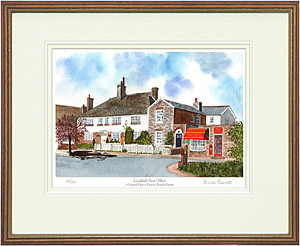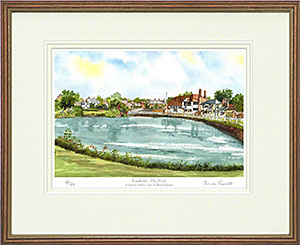 Following the success of her school prints, Brenda has painted a matching set of four Limited Edition Prints of Sussex's finest village. These prints – that Brenda has called "Memories of Lindfield" – make ideal mementoes for anyone wishing to be reminded of the time they have spent in Lindfield.
Brenda Barratt individually signs and numbers each print which is then presented within a classic double mount and a wood and gilt frame. Two sizes are available; the smaller frame measures 16″ by 12″ and the larger size measures 20″ by 16″. Both are provided with a Certificate of Authenticity.
Why have Brenda's watercolours become so popular? "They are definitely unique and compared with a photograph, the beauty of water-colours is that I can be kinder to the natural habitat," says Brenda. "For instance, when I painted these Lindfield scenes, I omitted telegraph poles, overhead cables and television aerials. I even removed the cars!"
Brenda's house portraits exhibit the same sensitivity. "More than once I've painted a house in the depths of winter showing the garden in full summer bloom!" As a keen gardener, this is part of Brenda's creative challenge.
Click here to download a brochure with all the prints available, prices and details of how to order. Originals of Lindfield Pond, Lindfield Cricket Match and Lindfield Green are available at £250. Please contact Brenda if you're interested.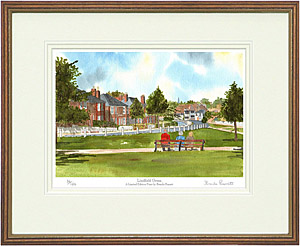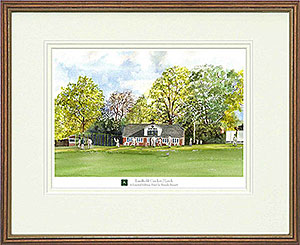 Lindfield – The Cricket Match
Lindfield Cricket Club is one of the oldest clubs in the county having been established in 1747 and is part of a long and proud history of cricket in Sussex. It has a strong profile for encouraging young boys and girls and has an academy of over 250 members.
Their crest of the swan is represented on their weather vane on the roof of their club house. I suspect this symbol was an inspiration taken from Lindfield's beautiful pond which has swans on it, amongst other wild life.
This match was being played on a lovely sunny day and watching it I immediately felt proud to be able to sit and watch and be part of it (from a distance of course!). Painting it was a "must".