Commissioning a School Portrait
A Special Scheme for Schools and Colleges
Brenda has developed a special scheme to meet the needs of schools and colleges, both large and small. This scheme has been well accepted by almost forty clients with highly successful results.
The school bears no cost
All the costs associated with producing and marketing a School Portrait are paid by Brenda; the school has absolutely no costs to bear.
And this is just the start of the good news that Brenda delivers to School and College Heads when she visits them to present her scheme. For example, after launch, Brenda undertakes all of the administration.
Think about it, have almost forty School and College heads got it wrong?
Working in Harmony
Brenda Barratt works very closely with the school at each stage of a new commission.
Initial Meeting – Details of the scheme are discussed and the portrait's viewpoint and aspect are agreed.
Painting – Brenda paints the original watercolour and provides the school with proof prints.
Marketing – Brenda Barratt designs a brochure for school approval and agrees  other marketing initiatives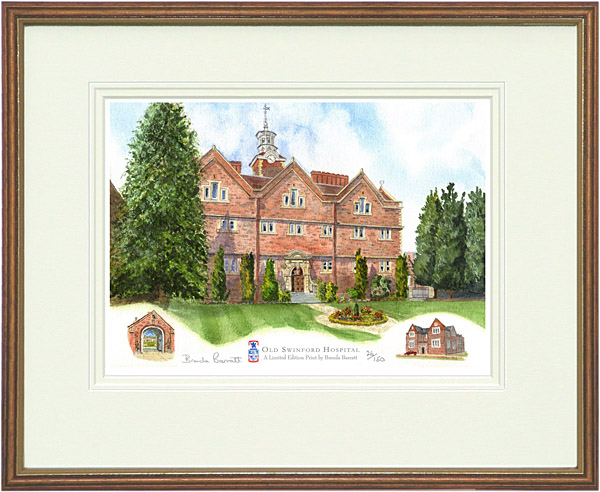 Limited edition prints
The prints are produced in two sizes either mounted and framed in a wood and gilt frame or just mounted.
All prints are individually signed and numbered by Brenda Barratt and a Certificate of Authenticity is issued with each print.
Previous commissions can be found hanging on the walls of homes and offices in the UK and around the globe. There, they present the school to a new audience whilst serving as a valued memento to pupils old and new.
Further Information
If you would like to receive further details of this special scheme, please call Brenda Barratt on 07932 060031 for a preliminary discussion or email Brenda Barratt requesting further information.
A very attractive picture of the school which has been treasured by Old Boys and friends of the school.
Thank you for sending me the original painting. It is delightful and I know that the pupils and staff will derive much pleasure from it.
…your painting captures the School most effectively…we are very pleased…